It's unusual to hear of orangutans being injured by snares in the forest as most snares are set on the ground where species such as wild boar and deer live. However, large Bornean male orangutans occasionally travel on the ground and are therefore also at risk. Recently, our friends at International Animal Rescue Indonesia (YIARI) rescued a large adult male Bornean orangutan with a snare embedded in his wrist.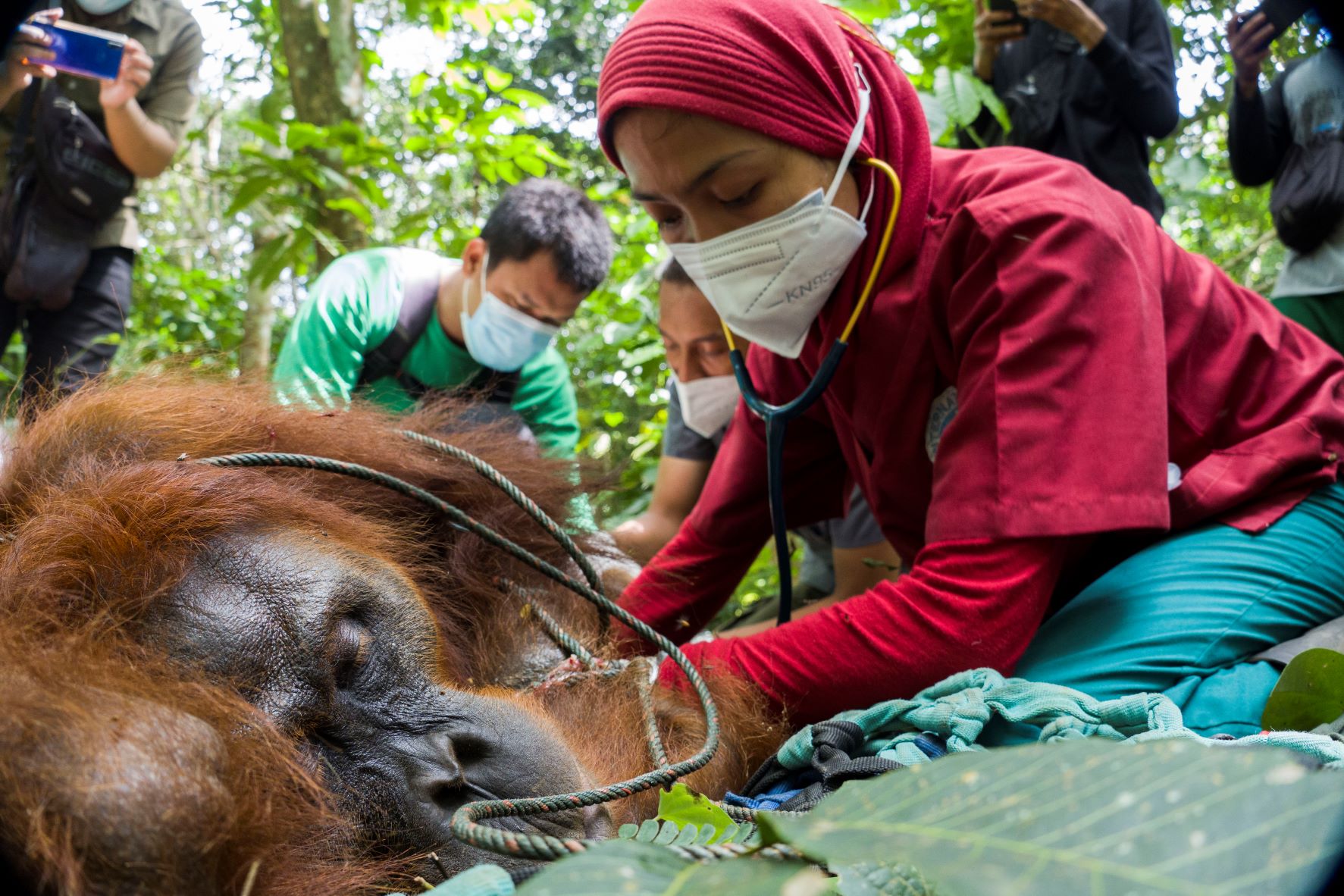 Severe snare injury
The orangutan was estimated to be about 15 years old and the team named him Kambung. It is likely that the snare had been set by a hunter to catch wild boar. Even though Kambung managed to escape, the four-metre-long rope had become tied tightly around his left wrist. You can see in these two photos (above and below) how devastating this snare was to Kambung's wrist.
When the medical team assessed the wound, they realised it was severe; the rope had cut through the flesh of his wrist and down to the bone. Kambung would have been in terrible pain. He required urgent medical attention and could not be returned to the forest that day. This injury highlights the devastating impact that snares can have on all wildlife - not just on species like elephants, tigers and deer.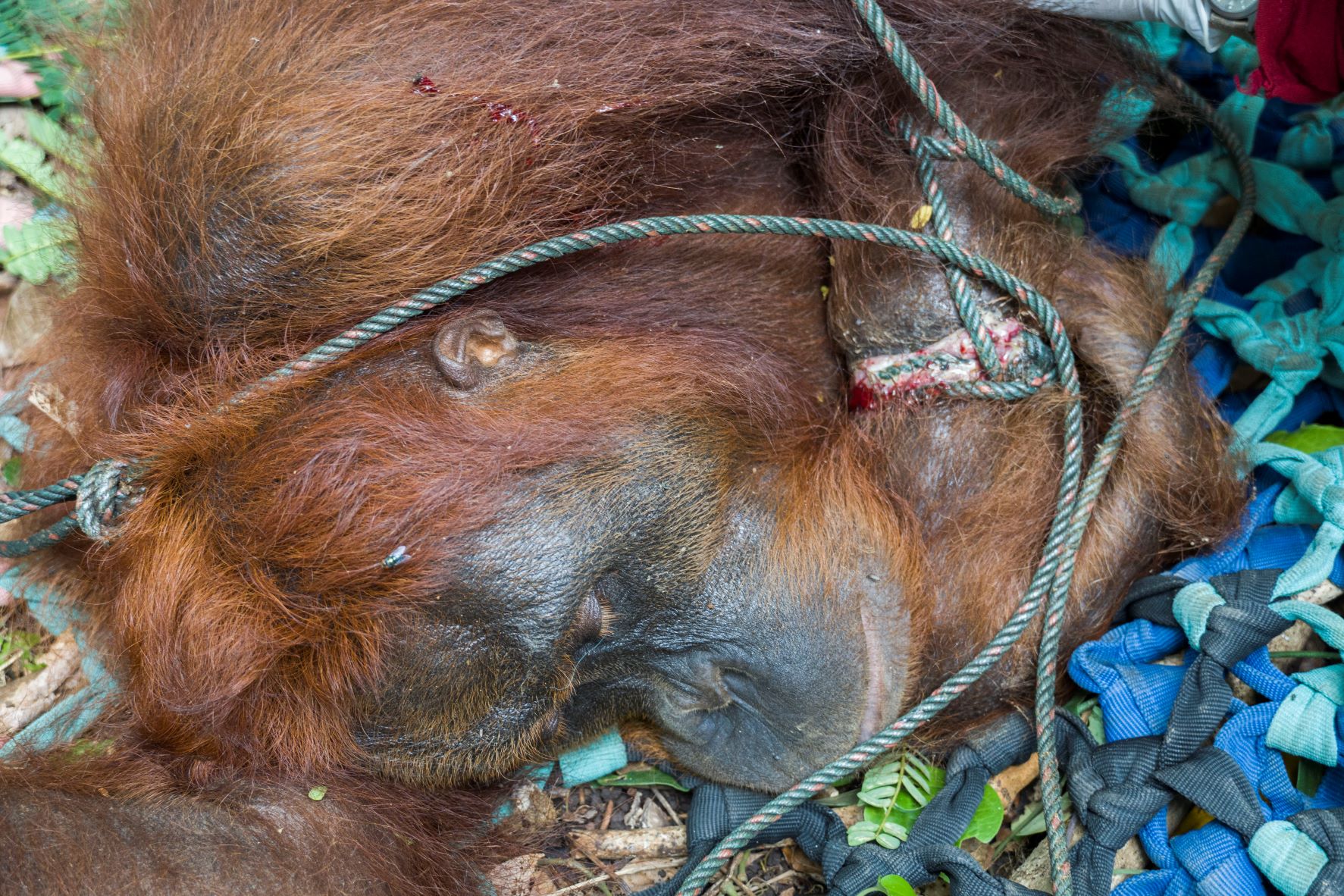 Due to the severity of the injury, the team decided to evacuate Kambung to the YIARI sanctuary in West Kalimantan for further treatment. When his injury has healed and he's strong enough to return to the forest, the team will transport Kambung to a forest with sufficient food and tree coverage. Below is a photo of Kambung being transported from the rescue site to the IAR sanctuary in East Kalimantan.
Kumbang was first spotted by residents of Pulau Kumbang village, who then reported him to the BKSDA (local authority) staff. Following up on residents' reports, a team consisting of the BKSDA, YIARI's Orangutan Protection Unit and medical staff immediately went to the area and rescued Kumbang. It's great to hear that residents of Palau Kumbang village reported the orangutan, rather than taking action themselves, which could have injured Kambung further. Their awareness and concern for wildlife is closely correlated with YIARI's community and education work in the area in regards to orangutan conservation and protection.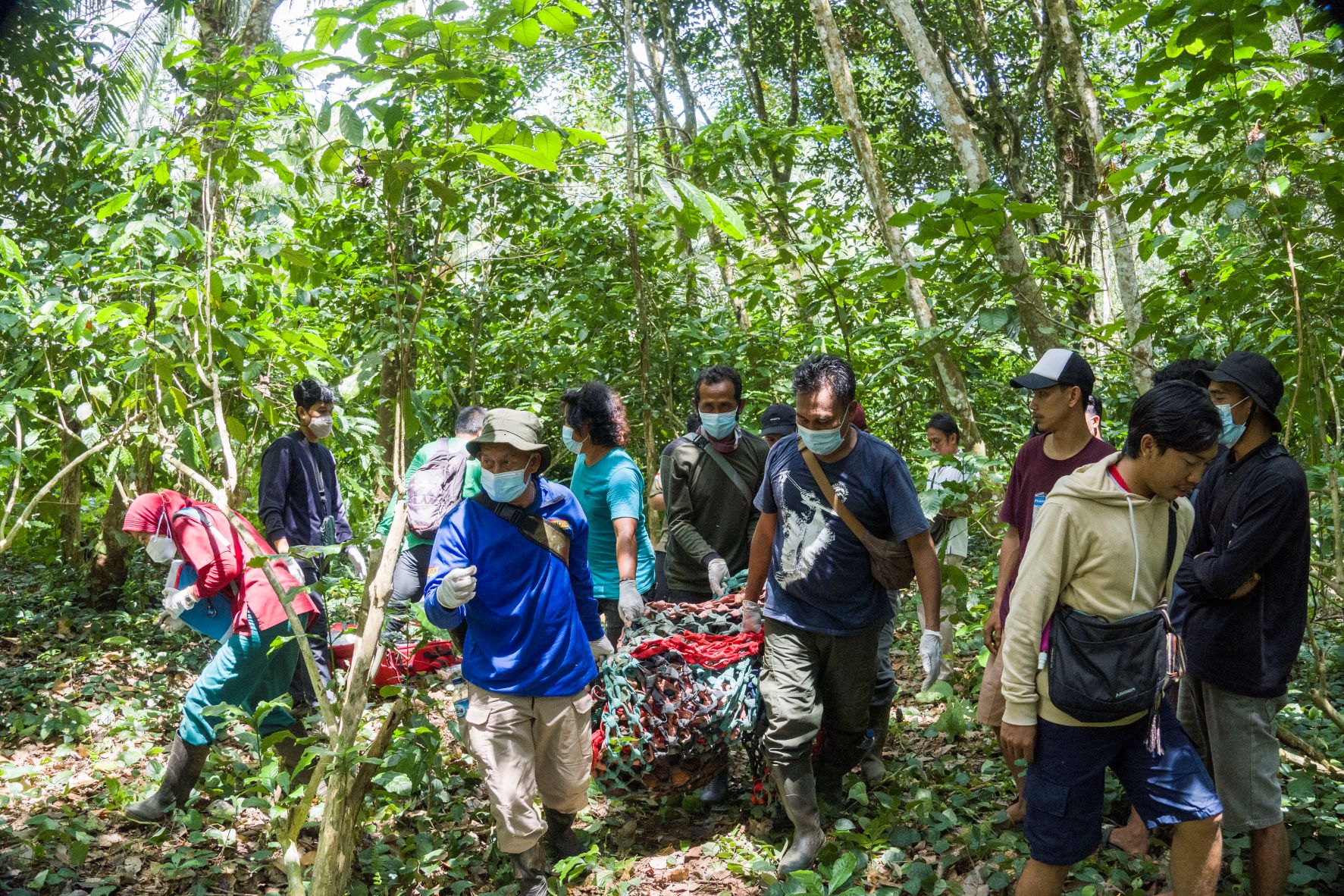 Returning Kambung to the forest
During Kumbang's recovery in the sanctuary, YIARI has been investigating different areas that may be suitable for his future release. We've been proudly supporting YIARI rescue teams for over a decade. This team carries out vital work rescuing many species, and we wish them and Kambung the best as he recovers from this traumatic injury. We'll be in touch later this year when he is returned to the forest.
Below you can see photos of Kambung's wound being treated and wrapped, as well as a shot through the bars of the transportation cage.