Your Lasting Wish for Orangutans
Leaving a Gift in your Will to The Orangutan Project is one of the most powerful (and practical!) ways you can help us secure the survival of Critically Endangered orangutans.
Your Gift will be used to protect orangutans, and to secure, restore and patrol their remaining habitat so they can live in secure populations for the decades to come. What a legacy!
There are two ways you can leave a gift in your Will to The Orangutan Project. You can download our bequest wording below and take it to your solicitor or estate planner.
Our bequest wording explains how you can nominate The Orangutan Project, or our sister projects - International Tiger Project and International Elephant Project. You can also nominate our parent organisation, Wildlife Conservation International so your gift supports Critically Endangered orangutans, elephants and Sumatran tigers! All are registered Australian charities and our ABN is 92 607 879 345.
"I've left a Gift in my Will to The Orangutan Project. I believe it behoves us not to allow any animal to lose its natural habitat or go extinct because of our actions. Orangutans have every right to live safe, wild and free in their rainforest habitat. I feel at peace knowing my legacy will help The Orangutan Project make that happen, for the generations to come."

Cynthia, Queensland, Australia
Alternatively you can choose to write your own Will for free through a partnership we've formed with Gathered Here, Australia's top rated Will-writing platform. It only takes 10 minutes and includes free and unlimited updates for the rest of your life.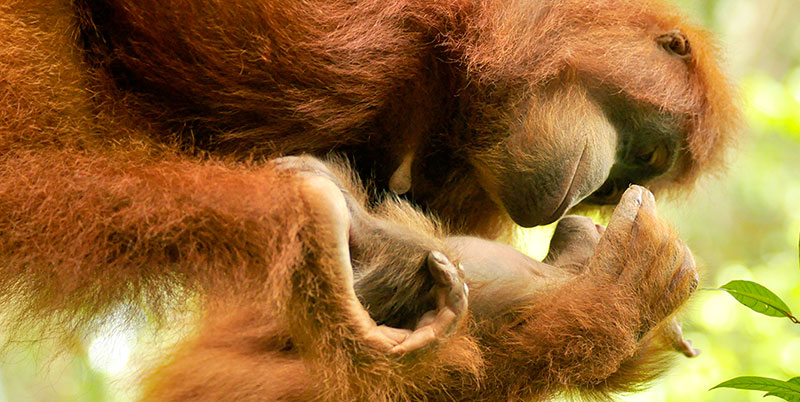 Your bequest will make sure ex-captive orangutans like Violet, pictured here with her baby, will live wild and free in protected habitat, helping to secure the survival of her species
If you have a question about leaving a Bequest or you'd like to tell us about your intention please email bequests@theorangutanproject.org