Our Film / fund Raiser at Lentil At Anything (Sunday March 6th) was a huge success! Many thanks to all my volunteers,  (please see pic with Jaxon, our TOP mascot), & Kylie Bullo, author of  "Reaching for the Canopy". Kylie's power point speech was so impressive, she sold 25 books! We raised $1655, & more people now wish to join our fast  growing TOP Team to help the orangutans, tigers & elephants.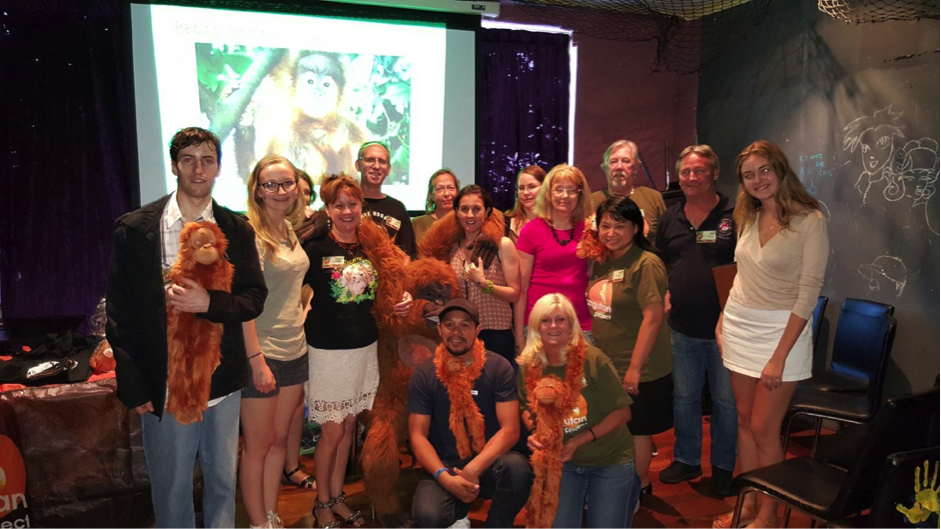 I would like to say a sad goodbye to Marion Wall, I miss all her kind words of advice, all her help & patience over the years I've been the NSW Rep. She is a lovely friend & co-worker, I miss her very much. Good luck Marion with your other causes!

On Feb 27th, Deb Sunarthra & Peter Wolfe raised $725 at her Master's BBQ at West Gosford. Pascole Kahn also raised $600 at her school, Pymble Ladies College on 7th April. Plus, the ladies in Armadale raised $95 for their Easter Stall. Great effort guys! Thankyou!

VERY POSITIVE MEETING on APRIL 16th.
I met 4 new volunteers, welcome to Carly, Susan, Ellie & Sofia! Also attending were Jenny, Gill, Rod, Maria, Darian, thankyou to all who contacted me with their absence. We have more events organised now, which are mentioned in the following paragraphs. Gill sold $75 worth of home made dog biscuits!Jenny sold merchandise, total $105! Many positive thoughts & ideas were tossed around, more will be discussed at the next meeting, but so far, a very successful outcome as follows:

April 30th will be our first Revesby Markets TOP stall, thanks to Bill Holmes organising, it with his Bowen Therapy. Rod & I will be there all day, this will be an ongoing end of the month stall most likely.

MILLION PAWS WALK
On May 15th, we have two "Million Paws" stalls. One is in Homebush with Jenny, Gill, Phoebe, Kelly Thorne and Sofia Basie. The second is in Wollongong with Darian, Carley Gladwell and Jen Edwards, Thankyou to all volleys who are working that day!

NEXT TOP MEETING:
Our next meeting is on May 21st at The Great Southern Hotel, 717 - 723 George St Sydney (as usual) at 12.00pm, followed by lunch. Please RSVP ASAP. (0405 170 712 or email gail.browning@orangutan.org.au

FILM / BAND NIGHT
June 18th will be our first screening of The Orangutan whisperer starring Leif Cocks, followed by live music, at The Panania Diggers Club, Child St Panania. 7.00pm, please contact me for more details.

The City to Surf is on August 14th, & so far, Gill, Rod & Darian are going to run, the Early Bird Special ($65) starts on 20th April so get in quick to enter for TOP! Please contact me if you are going to enter so you can run with the Orangutan suited up Darian & take a toy with you!

Sept 11th will be the date for our next showing of "The Orangutan Whisperer" at Lentil As Anything, details in next Enews!

Thanks, & best wishes for a successful year for our orange cousins! Welcome to many new volunteers I'm yet to meet in person!