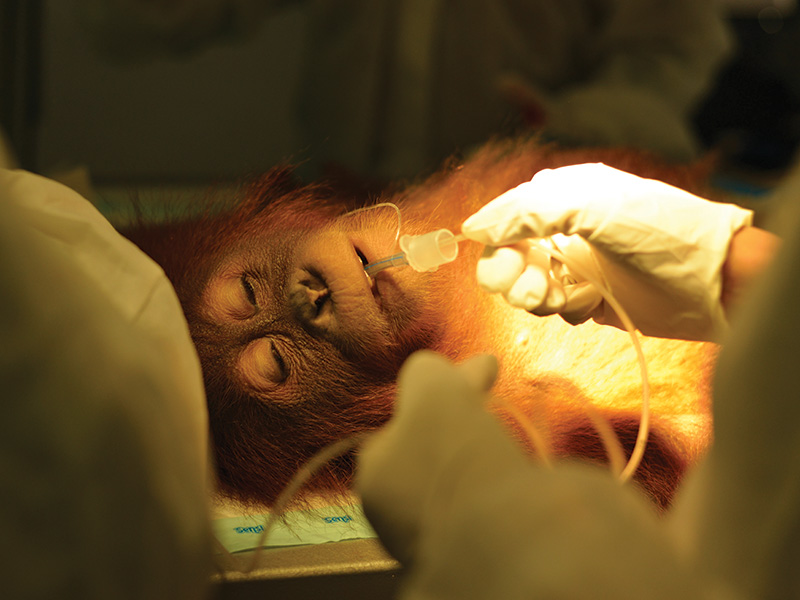 Thanks to donor support, in 2020 we opened the Sumatran Rescue Alliance (SRA) Rescue Centre in North Sumatra, in partnership with the Centre for Orangutan Protection (COP) and the Orangutan Information Centre (OIC), to care for orphaned and displaced orangutans.
And soon we will start construction on the new Bornean Orangutan Rescue Alliance (BORA) Rescue Centre with our partner COP in East Kalimantan.
Our veterinary teams at BORA and SRA have identified a number of essential medical items they need to equip our new rescue centres and provide the best possible care for sick and injured orangutans.
With your support, we can raise the $350,000 needed to purchase the following items on our Christmas wish list:
Anaesthetic machine

to effectively treat orangutans requiring urgent surgery or who are undergoing a routine health check.

X-ray machine

to examine and diagnose orangutans with suspected fractures or air rifle pellets and to screen for tuberculosis and other signs of illness or disease.

Haematology analyser

to analyse blood samples to determine the health status of orangutans and rapidly treat any disease or illness.

Portable ultrasound

to detect changes in the appearance of organs, tissues, and vessels and to detect abnormal masses, such as tumours.

General medical items

for use during surgery and routine health examinations of orangutans such as scalpels, needles and intravenous lines.

Protective wear

to reduce the risk of transmitting potentially fatal diseases between carers and orangutans, including COVID-19.

Rapid antigen

kits so staff can be tested and cleared for COVID-19 before handling orangutans.
Your gift will also help cover general operating costs including medicines, laboratory fee, staff wages, transportation, food and nutritional support.
The BORA and SRA Rescue Centres are 100% funded by donations to The Orangutan Project.
Your gift today will ensure that we can provide urgent medical care for the many displaced and orphaned orangutans that will need our help.
The Borneo Orangutan Rescue Alliance (BORA) is a partnership between The Orangutan Project (TOP) and the Centre for Orangutan Protection (COP) to rescue, rehabilitate and release Bornean orangutans back into the wild. TOP has also partnered with COP and the Orangutan Information Centre (OIC) to establish the Sumatran Rescue Alliance (SRA) for the repatriation and rehabilitation of Sumatran orangutans.