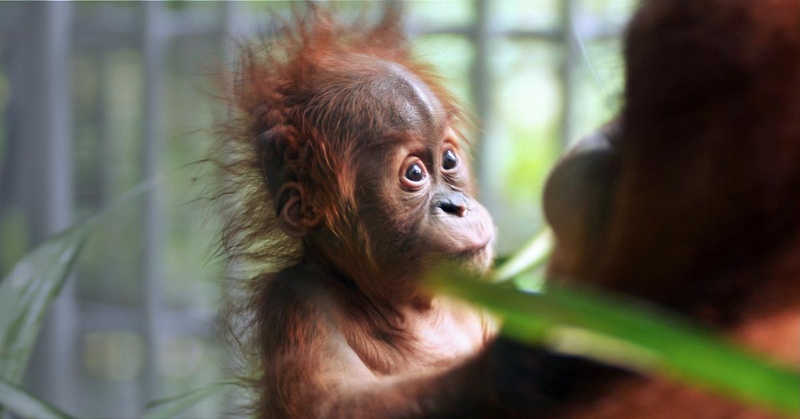 This is Cupcake, he's looking into his mum's eyes, he's looking for safety.
I Will be Guardian for Cupcake & Sam

Cupcake and Sam's Story
When you think about it, there are few relationships that can compare with those formed by family. Especially the connection between a mother and child. Surely that's one of the most formative and profound relationships any of us ever experience, and it's particularly tender between mother and child orangutans.
 
So when young Cupcake and his Mum Sam needed extra help to transition to their new life in the wild, we figured starting this appeal on Valentine's Day (and continuing until early April) would be the perfect opportunity to celebrate love in all its manifestations, while also contributing to a very important cause.
Love and life always find a way...

In 2013, Sam was rescued from appalling conditions in a Malaysian zoo. She was welcomed into the orangutan care centre and soon entered the Bukit Tigapuluh (BTP) rehabilitation and release program.
Despite her tough start in life, we wanted to give Sam every chance to have a successful release.  

Then in 2015, we were surprised (and excited) to discover she was pregnant! Even in her timid state Sam had pushed past her insecurities to follow the instinctive drive to contribute to her species and attracted a wild orangutan named Rocky to her cage. 

But Sam's pregnancy changed everything. Despite her excellent progress through Jungle School she was too vulnerable to return to the wild while pregnant and for some time after the baby's birth.

We had to find a way to help them transition into the wild together. It was a unique situation and one we'd urgently need to raise funds for – not just to ensure their successful joint release, but also to provide intensive follow up and monitoring.

In June 2015, beautiful Cupcake was born and as expected, the pair have been inseparable. The team has worked hard to teach Sam and Cupcake the skills they'll need for independence and survival in the wild.

Freedom is now so close..
We're thrilled to announce that Cupcake and Sam will soon be released due to the amazing support from our donors  however, Sam and Cupcake's challenges aren't all behind them just yet.
 
Specifically, we're anxious that Sam and Cupcake are protected from harm while they adjust to their new jungle home. This means organising extra monitoring for the pair, to make sure they're eating well, can take care of themselves by building sleep nests, and are safe from the clutches of illegal poachers and wild predators.
 
While all our released orangutans receive careful motoring to ensure their health and safety, this little pair are extra special - and vulnerable.

All orangutan mothers are in a greater state of vulnerability while focused on looking after their babies, reducing their ability to remain alert for potential threats. And until he grows some more and gains greater strength, babies like Cupcake are vulnerable to larger predators in the jungle and unfortunately, the ever-present threat of illegal poachers.
 
That's why we're asking supporters like you to consider becoming a special Guardian for Sam and Cupcake.
Other ways you can help...
Holding a Cupcakes for Cupcake fundraiser – either on the official date of the 14th Feb, or any time during the months of Feb or March - will fund Cupcake and Sam's release into the wild. This includes all medical, food and housing costs to date, plus their Jungle School life skills training and the cost of rehabilitation to ensure they can be released.

Not good at selling cupcakes? Never mind, we have different ways that everyone can help raise funds. You can raise funds for Cupcake using our online fundraising website. It's very similar to Everyday Hero or Go Fund Me, you register and then share your fundaising page via social media, email, in fact, any way you can think of, to encourage your friends and contacts to each make a small donation to help you reach the goal you've set yourself.

All types of support are critical. If you'd like to make a donation yourself, or on behalf of a loved one, click the Donate Now button to help us fund the expenses to help care for Cupake and his mum Sam. Your donation will go towards medical, food and housing costs - not to mention their Jungle School life skills training. You can make a real difference.