Rocky is a very active orangutan who loves to move super-fast through the canopy on Setrum Island at the IAR orangutan rescue centre in West Kalimantan. It is not uncommon for the orangutan keepers that follow him on the forested island to lose track of him very quickly.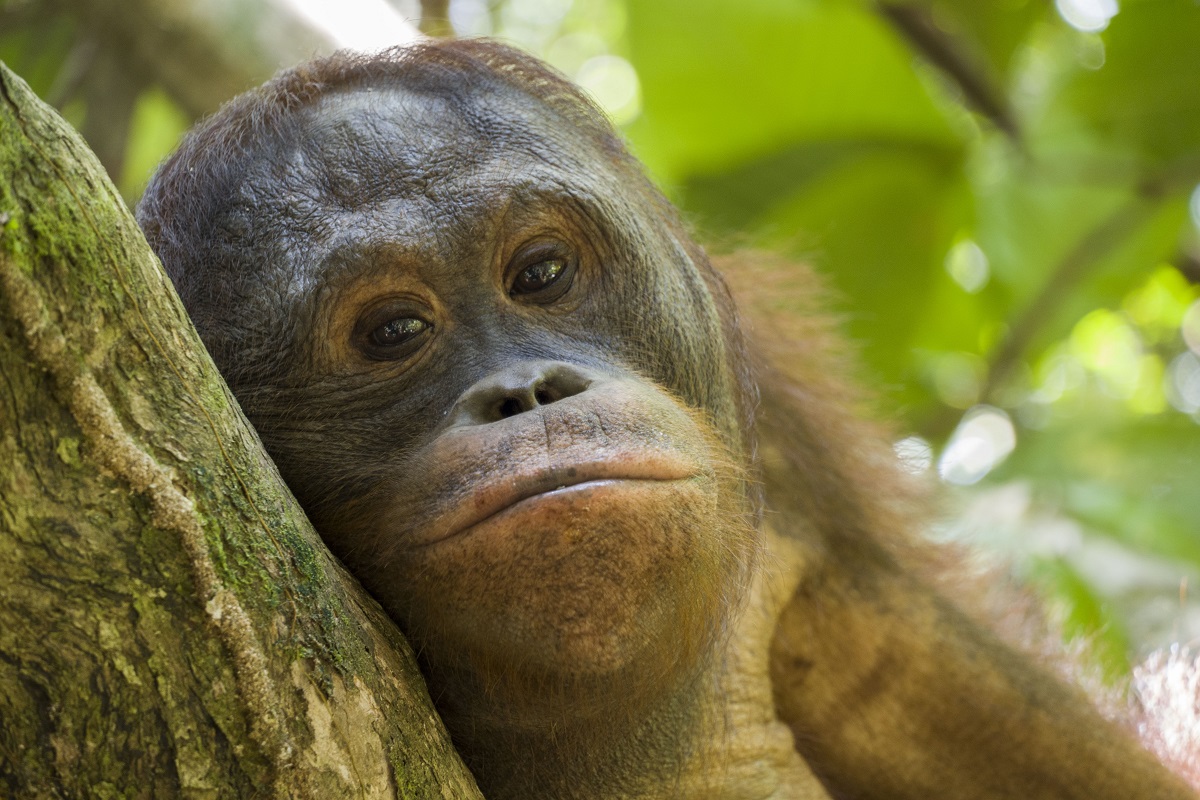 Handsome Rocky relaxing in the canopy
Rocky is known for trying to escape from Ali Island on several occasions. Because of this, the Animal Management Team decided to move Rocky to Setrum Island in March 2022 to monitor him more closely. Being the sociable orangutan that he is, Rocky made new friends quickly at his new home with his favourite friends now being Giet and Joss.
Although Rocky likes to be adventurous deep in the forest, he hasn't been foraging as much on his own lately. He spends most of his time socialising with other orangutans or having adventures including trying to escape, so there isn't that much time left to forage for new food items. After his expeditions, he usually returns to the feeding platform to collect some food from the orangutan keepers. His favourite foods are corn, sweet potatoes, and yams. Sometimes, cheeky Rocky will steal food from a distracted babysitter before lunchtime. Rocky also really enjoys the enrichment provided by the keepers. His favourite enrichment is papaya sticks filled with honey. This video shows handsome Rocky hanging out in the canopy.
On a very positive note, Rocky is excellent at building nests. He carefully makes new nests from scratch at any time he wants to take a nap or settle down for the night. Thus, he may be caught making new nests in the morning, afternoon or at night. Occasionally, he will repair and modify old nests to sleep in. He can be quite methodical when it comes to nest making!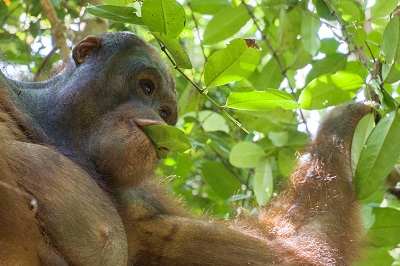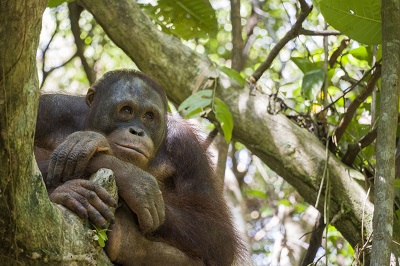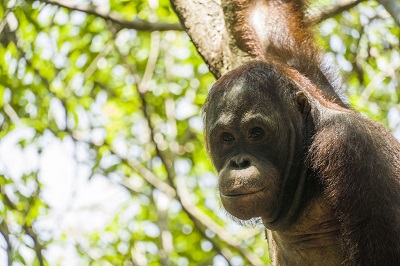 Rocky enjoying life in the canopy
Rickina is currently living in Monyet Island with 12 other orangutans at the IAR orangutnopyan rescue centre in West Kalimantan.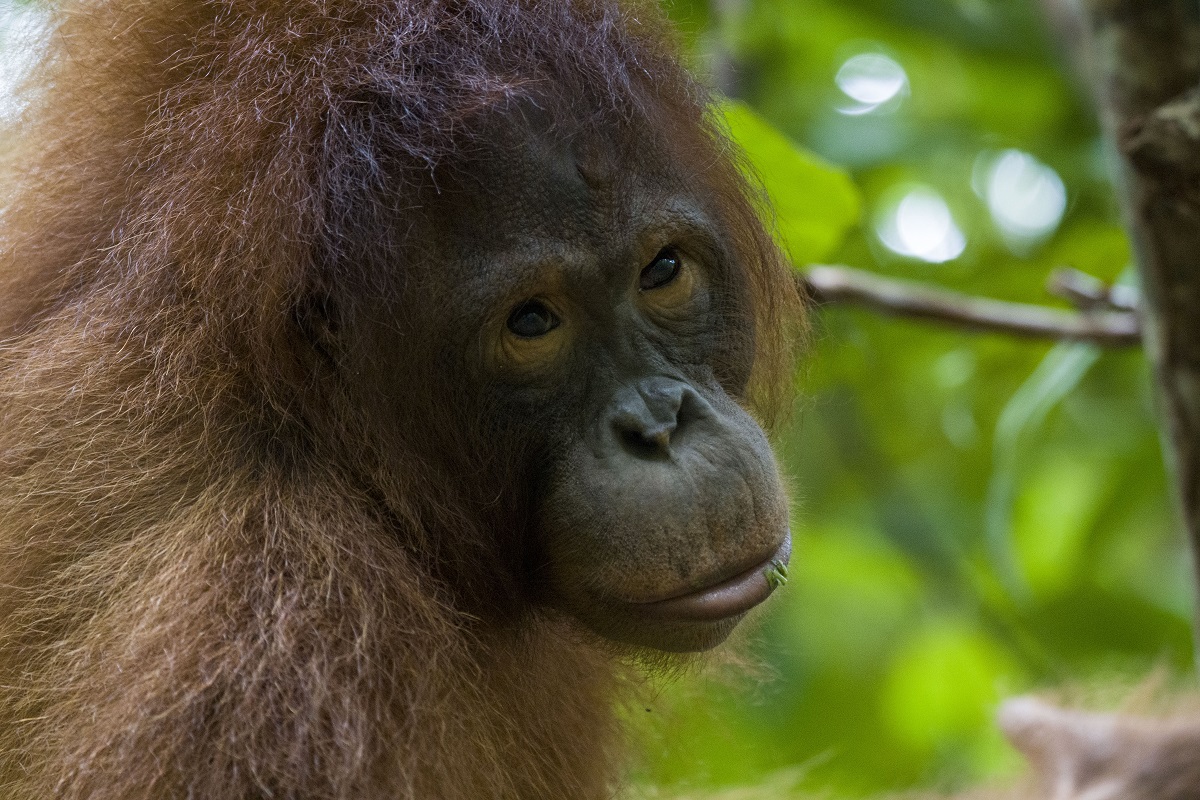 Rickina has a very close friend named Tulip. They spend a lot of time together and play. Rickina and Tulip also explore Monyet island together in search of food and other places to hang out. In her group, Rickina is the dominant orangutan, and she is often caught stealing food from the others, who are usually smaller than her. When the feeding platform runs out of food, she is the first one to ask for more from the orangutan keepers. Rickina enjoys eating sweet potatoes, corn, yam, and bananas.
Rickina is also an excellent natural forager, often feasting on forest fruits. Rickina spends significant time in the trees and rarely comes to the ground, which is a very desirable behaviour for an orangutan undergoing rehabilitation. Rickina can be quite good at making new nests and she often builds nests from scratch rather than repairing old ones. Although Rickina likes to get close to the orangutan keepers and babysitters that she knows, she can be quite aggressive towards the people that she doesn't know.
In February, Rickina sustained an injury on her buttocks and she had to be transferred to the veterinary clinic for treatment. Young orangutans can often injure themselves on branches in the forest. The medical team stitched the wound and closely monitored the healing process. Rickina returned to the island in March and is greatly enjoying being back out in nature.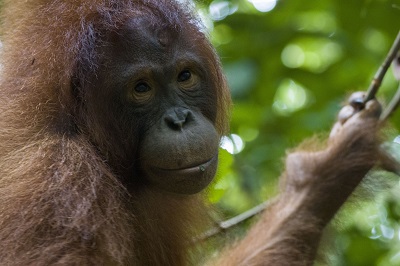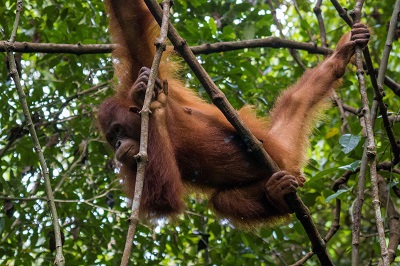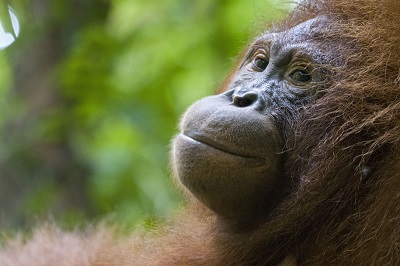 Rickina showing off her jungle skills
Rickina and Rocky's wide range of forest skills will serve them well when they are released in the future. It's wonderful to see them both doing so well on their rehabilitation journies.