International Ninja Warrior and former Australian Olympic gymnast Olivia Vivian has joined The Orangutan Project as official ambassador of the Body Fit Challenge taking place this March.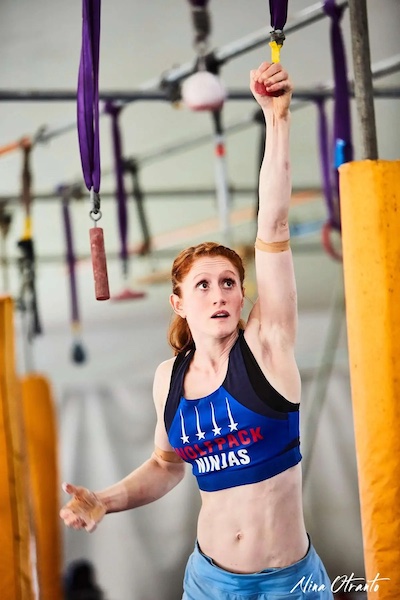 A self-confessed 'monkey in a human body', Olivia is using her profile to encourage others to take up the challenge and do something positive for themselves, and for Critically Endangered orangutans.
"I am honoured to have been asked by The Orangutan Project to get involved with the Body Fit Challenge," says Olivia. "Orangutans are known for their upper body strength, so obviously there's a real synergy with what I do as a gymnast and a Ninja Warrior."
"As a red head I've always had an affinity with orangutans and I'm delighted to be able to use my profile to help raise awareness and funds for an important cause."
The Body Fit Challenge is a peer-to-peer fundraising challenge in which participants undertake a set number of daily exercise repetitions - consisting of push-ups, pull-ups and sit-ups - during the month of March, while raising funds to support orangutan conservation. Participants can choose from three levels - beginner, intermediate and advanced - depending on their ability and current level of fitness.
As orangutans are up to seven times stronger than humans - the focus of the challenge is on improving upper body strength and overall health and fitness.
"Upper body and grip strength is essential to what I do as a gymnast and a Ninja Warrior," says Olivia. "But it's important for all of us to maintain and improve - particularly as we age - so that we can undertake simple everyday activities that involve lifting, pushing or pulling."
The Body Fit Challenge is unique to other fundraising fitness challenges in that it incorporates pull-ups into the exercise repertoire.
"Pull-ups are a great low-impact exercise as they work multiple muscles at the same time," says Olivia. "However people may be reluctant to give them a try as they are not sure if they can do them or they don't have access to a pull-up bar. There are, however, some simple alternatives that you can do at home without the need for a bar. The exercise guides available on the Body Fit Challenge website outline some of these alternatives."
As Body Fit Challenge Ambassador, Olivia will be encouraging her legion of supporters and followers across her social media channels to join in the challenge and help raise funds for orangutan conservation.
"I've set a goal to raise funds in support of The Orangutan Project in this year's challenge," says Olivia. "I'll be encouraging others to get on board by signing up for the challenge and joining my team, or making a donation to my fundraising page."
All funds raised from the Body Fit Challenge will go directly to supporting on the ground outcomes for Critically Endangered orangutans in Borneo and Sumatra.
The Body Fit Challenge runs from 1 March to 31 March and is open to individuals around the world.
Registrations are open now at www.bodyfitchallenge.org. To join Olivia's team go to www.bodyfitchallenge.org/join/teamolivia.
About Olivia
As a gymnast, Olivia competed at international level for many years winning a silver medal with the Australian team at the 2014 Commonwealth Games. After retiring in 2016 she briefly joined Cirque du Soleil before finding Ninja Warrior.
Since 2017 Olivia has been a regular competitor on Australian Ninja Warrior, becoming the first female to make it to the Grand Final in 2018, which she backed up again in 2019. She has also competed internationally, setting a women's world record at the inaugural Ninja World Championships in Russia in 2019, and helping Team Australia to secure the gold medal in the 2020 American Ninja Warrior: USA vs. The World.
In March, Olivia will be training and competing all over the world, all the while keeping up with her Body Fit Challenge.